Events
Webinar on Maritime Activities in Hong Kong
Panelists:
| | | |
| --- | --- | --- |
| 1 | | Mr. See-Yin Chan, General Manager of the Ship Registration and Quality Branch Hong Kong Marine Department. |
| 2 | | Capt. Vikram Dhingra, General Manager (Marine), Pacific Basin Shipping (HK) Limited. |
| 3 | | Mr. Anil Devli, Chief Executive Officer, Indian National Shipowner's Association (INSA). |
The Company of Master Mariners of India organized a Webinar on 26th February 2021 on the theme of "Maritime Activities in Hong Kong".
Secretary General, Capt M P Bhasin welcomed the panellists and the participants, detailed the functions of CMMI and invited the Master to speak.
The Master Capt B K Jha in his opening remarks welcomed all and reiterated the CMMI commitment to providing the platform for improvement opportunities in India. He reiterated that this is the fourth in the series of Webinars where we have had the participation of top Maritime Administrations, earlier ones being UK, USA and Singapore.
Dr (Capt) S Bhardwaj, introduced the panellists and lay the underpinning context of the Webinar:
Mr. See-Yin Chan, General Manager of the Ship Registration and Quality Branch
Hong Kong Marine Department, is a naval architect and has worked in various marine sectors including ship repair and construction, class, ship management and now Hong Kong Marine Department.
His responsibility on one hand is to ensure the safety quality of Hong Kong-registered Fleet, that currently stands at 2600 ships, are maintained above world average by their owners and managers, and at the same time to attract quality owners and operators to register their ships with the Hong Kong Shipping Registry on the other.
Capt. Vikram Dhingra, is General Manager - Marine with Pacific Basin Hong Kong. Pacific Basin is world's largest handy size owner & operator - and headquartered in HK. & we would like to hear from him, the user perspective. Capt Dhingra has sailed for 17 years - in command as Master for five years, before taking up shore Job in 2011 as QHSE superintendent in Anglo Eastern Ship Management, Hong Kong.
He joined Pacific Basin Shipping, Hong Kong in 2014 and was promoted to General Manager, Marine in Feb 2019. He is also the Company's DPA and CSO. He represents Pacific Basin in Standard P& I Club Safety & Loss Advisory Committee - Asia division. He is also member of the Hong Kong Fleet Operations Advisory Committee (HKFOAC) & on the Hong Kong Ship Owners Association - Marine Sub Committee.
Mr Anil Devli - needs no introduction - vibrant, dynamic, suave CEO of Indian National Ship Owners Association and probably the biggest stakeholder of all that is going to be deliberated in the Webinar today. The die-hard optimist that he is of the Indian flag, makes him the best and most apt person to represent "us all" here on this panel and put forth the Indian perspective.
Deputy Master Capt Kaustubh Pradhan then took over the further proceedings moderating the Panel discussion.
Q to Mr Chan - HK Flag Register is 4th largest in the world and it has an excellent performance too - your flag is rated better than Japan and Germany. You yourself are in a seemingly conflicting role - of ensuring high safety standards as well as attracting flags to HK Register - so what is the recipe of this unique success?
Mr Chan: Yes, it may seemingly appear contradicting roles, on one side HK Registry trying to increase the number of ships under its registry and maintaining quality of safety at a high level on the other. However, if we keep quality first and turn it around and reframe the objective - maintain a high quality of the HK flag registered ships and therefore to attract the quality ship owners to register their ships with HK Register, then it suddenly makes lot of sense and is seen complimentary. This re-organization actually happened only last year for us. HK fleet had been included in the premium fleet of USCG Qualship 21 program for more than a decade. It is rated very high on Paris and Tokyo MoU as well. In January 2021 this year the ICS rating of flag states has once again recognised the performance of HK flag. This table that compares nearly 120 flags has good criteria to benchmark against. It covers PSC performance statistics, recognition of international maritime treaties, very selective in RO approval only 9 recognized so far, age of the fleet, reporting to IMO and ILO, compliance to IMO Member-state audit requirement. We are among the top 10 flags covering 70% of world's GT. Only 5 flags have achieved positive rankings in all these criteria and HK(China) is one of them. We have 130 million GT in registered tonnage, grown 20 times since 1999. However our manpower strengths in Marine Department has not changed much, we continue to be lean. So maintaining quality of registered tonnage plays a very important role.
Our Flag State Quality Control (FSQC) system was implemented in 1999 to work with the owner to improve their Safety Management System. When we inspect ships, we do not look for deficiency but see the breakdown in the maintenance system and whether they can identify deficiencies themselves. PSC detentions if analysed shows exactly the same deficiencies recurring. Our approach is different and we are guided by Recommendation 74 of IACS - Systematic Approach to Maintenance systems. We have now established Regional Desks at major ports like Singapore and Shanghai where most of our ships call, to carry out FSQC audits on our behalf. And these places are close to our ship owners and managers too where they are located and we provide direct support to them on the spot. We keep a service-oriented approach in our Ship Registry department. We gain satisfaction by providing efficient services to our clients and we enjoy the smiling faces of those who receive these services.
Very important too is active listening to the maritime industry, and the best example is establishment of regional desks, as we operate only out of one location, unlike other major flags who have representative offices elsewhere. Our Government has also provided profit tax relief last year to qualify ship lessors and facilitate leasing market in the maritime industry by amending legislation.
We realise that we have to continually keep improving to meet the changing expectations of the maritime industry.
Q to Capt Vikram - Capt Vikram, Pacific Basin is headquarted in Hong Kong and listed company there - it is the world's largest Handy-size owner and operator - more than 200 owned and operated fleet. What are the unique advantages you find that keeps you in HK.
Capt Vikram: Well, let me give you a little background. We go way back to 1987 when HK was booming and that was the year when Pacific Basin was set up here. The policies of the Government were very liberal and they encouraged lot of foreign investment. In the year 2000 we had our IPO and listed in stock exchange here and we had about 30 ships owning and operating. But our real growth started in 2012 and right now we own 113 ships and have 140 ships operated by us commercially ... on spot charter, time charter etc.
We have Technical Management based in HK, HK is a gateway to China, where we have lot of cargo imports to. Our ships are manned by Chinese, Pilipino predominantly and then Ukrainians and Russians and some Indians recently. We have our manning offices in Dalian and Training centres in Philippines giving us the regional advantage. Most of our ships are dry-docking in China. All our ships are registered in Honk Kong, which is a high quality flag. We work very closely with HK Marine Department to maintain the performance of our ships. We do have lot of support from the HK Marine Department when it comes to regulations and compliance. Every year the Marine Department is visiting our office to brief us on our PSC performance how we can improve on that.
Also there is a big service industry in HK as well like financial, commercial, legal that we as ship operators and owners rely upon, so that is why HK is our preferred destination.
Q to Mr Anil Devli, you have heard so much about HK the kind of infrastructure provided, the flag performance and the various nationalities allowed to serve on HK flag ships. In the recently announced Budget - categorical reference was made to allocation for development of Indian flag ships - that is giving us lot of hope. You are the best person to provide us the Indian perspective in this context. What is the future of shipping in India?
Mr Anil Devli: As Dr Bhardwaj pointed out, I am an eternal optimist. I was told by a senior bureaucrat that with the Government one has to keep going on. And as we go on, things happen. We are fortunate to have our DG who has been around for last 6 or 7 years, so somebody who understands what the business requires in long term. We also have a Minister now with an independent charge and he has been focused now on how Indian tonnage can grow. Yes we also have a big 1600 Crores allocation in the recent budget for supporting Indian flag participating in Indian trade.
We do not have that size of fleet as we should have given so many of you luminaries amongst us, numbers are there but not the tonnage. Main reason is our cost of operation, which is higher by 22% vis-a-vis a non-Indian flag. What do we get for this differential in cost? Do we get cargo reserved for us? NO. The only thing we get is right of first refusal.
So if we were to sell our flag we have to say what we can offer? If not then, what negatives we can remove? This allocation of 1600 cr is the first step in trying to equalise that difference in cost we bear. While the contours of the scheme are being worked out in great detail, I am sure there will be a spurt in Indian flagging here. Because in addition to our skills in maritime operations what we have is the cargo. There is a huge amount of EXIM cargo that gets traded which is presently happening 90% on foreign flag ships. But just not that, we need somebody like Mr Chan, who will tell us how do we balance quality with numbers. This message has to go across in Indian ethos, we can try and hold hands and be friends.
In INSA we have established internally a program to achieve quality and reach a standard. It is for own members and is voluntary. Matter of fact CMMI can get themselves to work closely with DG Shipping on issues of audits, inspections, incident investigations etc.
Q to Mr Chan: What is the process of registration, and how do you attract them? Is it necessary to have office in HK?
Mr Chan: No it is not necessary to have office in HK, just a representative for ships in HK is good enough. Representative office means registered in HK for acting as agent for a ship, which is to satisfy the ITF requirement of genuine link to owner. Secondly we try to understand owners' perspective and amend our ways as much as possible in the given regulatory regime. For example, some flags give out Provisional registry at very early stage so owner can do all his other formalities. We were issuing one only when we have a copy of Bill of Sale or Builders certificate which is too late. But the awareness of our 'in-principle approval' was lacking, which can be used to do other formalities in HK. So we have now issued user manuals and guidelines for clarity on our registry processes. Furthermore, our KPI for registering ships is only 2 hours after receiving all correct documents. We have simplified our application forms that required lot of ship details which are easily available from the IMO number. So we are constantly looking at things to make it faster and simpler. We have one stop portal for all kinds of issues related to ship registration with intelligent guidance available. We also do not charge for FSQ audits and many costs are borne by us.
For second sale ships, particularly if they are more than 15 years old we have PRQC (Pre Registration Quality Control) desk-top assessment, where we see previous PSC records, Manager records and Class records. If it falls outside our benchmark, we will do an on-board assessment.
More-over, we value the ship owners time and are very much unlike a typical government officer. Also HK flag ships enjoy 30% relief in China ports dues and there many double-taxation avoidance agreements in place.
Capt Sasikumar, CEO, wound up the session with his customary vote of thanks to all Panellists, participants and the media.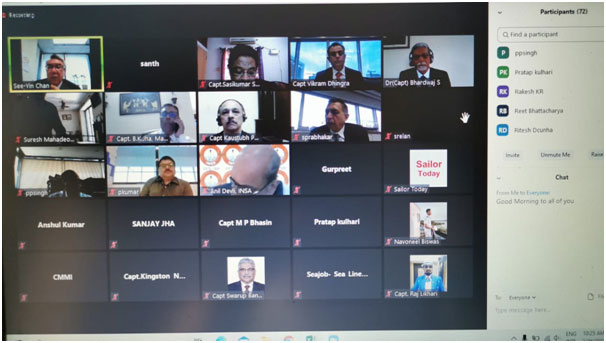 Event Gallery