Events
Upcoming Events
CMMI Annual Dinner Function on Saturday, 11th February, 2023

11th February 2023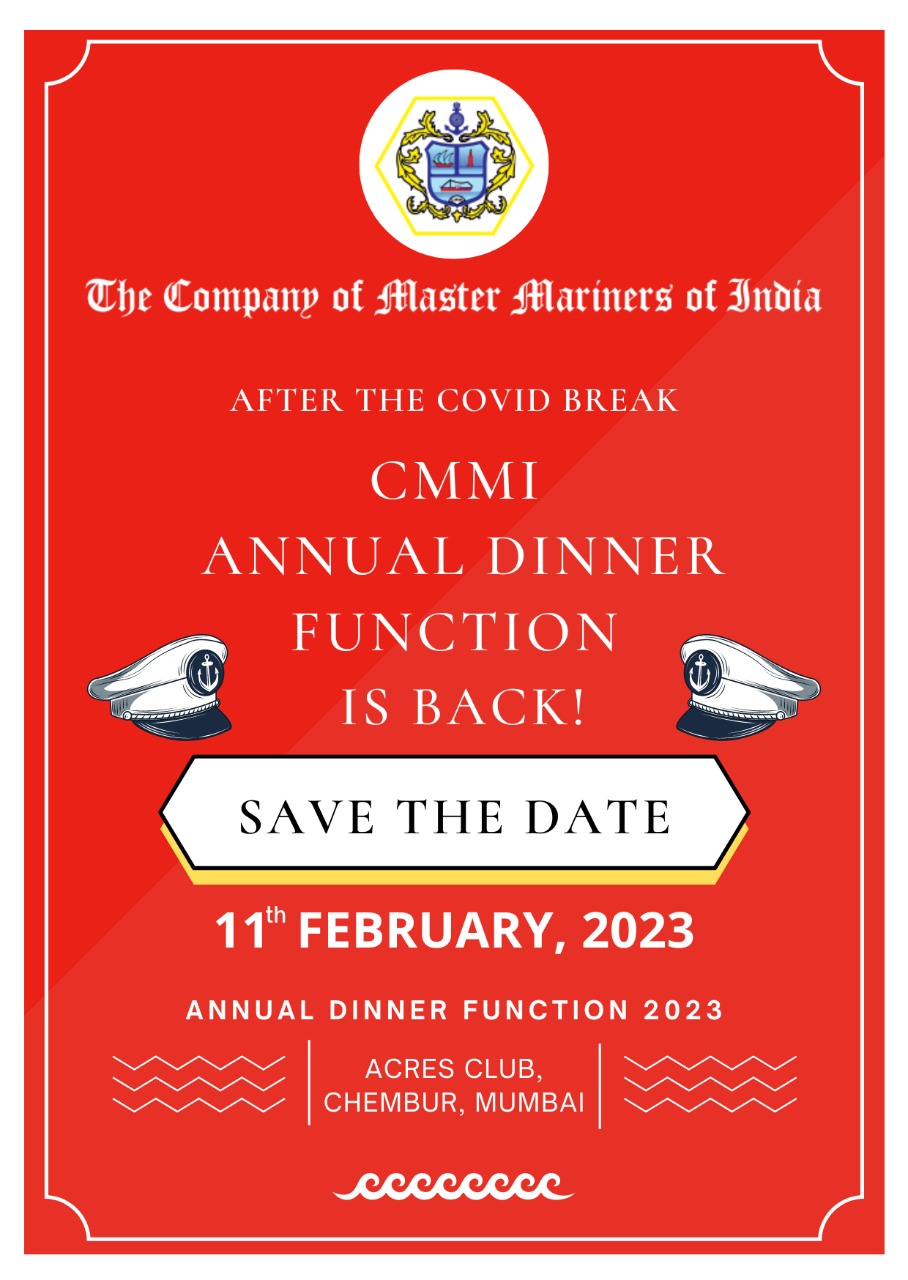 CMMI Annual Dinner Function on Saturday, 11th February, 2023
1900 hrs onwards
"The Acres Club",
Chembur, Mumbai 400071
DETAILS OF ENTRY COUPONS
| | |
| --- | --- |
| Member (CMMI or IME) | INR 2500/ head |
| Member's Spouse/ child above 18 years | INR 1500/ head |
| Member's Child (6 - 18 years) | INR 1000/ head |
| No charge for children below 6 years | NIL |
| Guests (Non-Member) | INR 3600/ head |
Due to operational reasons, no bookings will be accepted at the venue
ADVERTISEMENT RATES/ SPONSORSHIP OPTIONS
| | | | | |
| --- | --- | --- | --- | --- |
| Amount in INR | Type of Sponsor | What you get | Donor Coupons | Number of Sponsors |
| 1000000 | Event partner: Main Sponsor | Kiosk at venue, intermittent announcements. | 20 | One Sponsor |
| 500000 | Event partner: Co-Sponsors | Kiosk at venue, intermittent announcements. | 10 | One Sponsor |
| 300000 | e-Entry Coupon Sponsor | Your company's logo on each e-ticket | 8 | One Sponsor |
| 300000 | Beverage Counter Sponsor | Banners on the counter | 8 | One Sponsor |
| 200000 | Stall* | Kiosk at venue | 7 | Multiple sponsors |
| 150000 | Dinner Counter Sponsor | 4 standees around the dinner counter | 6 | Two Sponsors |
| 150000 | Open Ground Display | 4 standees inside the ground | 6 | Multiple sponsors |
| 150000 | Welcome Sponsor | 4 standees at the entrance | 6 | Multiple sponsors |
| 150000 | Music group Sponsor | 4 standees near the Music group | 6 | One Sponsor |
| 100000 | Souvenir- Back cover | Your ad on the back cover | 5 | One Sponsor |
| 100000 | Souvenir- Front cover inside | Your ad on the front cover inside | 5 | One Sponsor |
| 75000 | Souvenir- Back cover inside | Your ad on the back cover inside | 4 | One Sponsor |
| 40000 | Souvenir- Full page ad | Your ad in the Souvenir | 2 | Multiple sponsors |
| 25000 | Souvenir- Half page ad | Your ad on half page of the Souvenir | 1 | Multiple sponsors |
Goods & Service Tax shall be additionally charged as applicable.
* Stall – Those desirous of displaying their merchandise can rent out a Stall of 10 feet x 10 feet size. Details may be discussed with the CMMI Office any time.
Each Sponsor's advertisement will appear in the Souvenir. In addition, the logo will be displayed in print as well as electronically during the event. Sponsors are requested to send soft copy of their 'Advertisement' (for Souvenir) and 'Logo' (for display) – preferably in .jpeg format- on or before 05th February, 2023 to office@cmmi.co.in.
Souvenir page size : Full Page - 160 mm X 225 mm
Half Page - 160 mm X 107 mm
All standees to be delivered to CMMI office before 08th February, 2023 by each sponsor in order for us to ensure proper planning and placement at the venue. CMMI will arrange to return the standees back to you after the event.
CMMI EXTRA MASTER's on-line course (Part A)

4th March 2023
Extra Master's qualification gives you a much wider perspective of the Shipping Industry, be it while sailing on ships or engaging yourself in a shore job. With India poised to become the hub of Maritime Education, it is but natural for us to achieve professional qualifications which can lead to better opportunities. As Shipping Industry matures in India, one of the naturally foreseen change over the next few years will be a requirement of higher level of qualifications. Having a 'good' qualification reflects your professional pride. This is the best way to stand out from the crowd. With this in mind and much more, CMMI is pleased to announce the commencement of the new cycle of the coaching, with the launching of a fresh batch of EXTRA MASTER's Part-"A" on-line course.
The course (Part A) will commence on Saturday, 04th March, 2023.
Registrations for this Course are now open.
Upon registration you will be provided with User ID/ password to access class-room videos and course material.
The typical EXTRA MASTER's on-line Course shall consist of four Parts: Written (Part A, Part B, Part C), followed by a dissertation (Part D).
The sub-modules of 'Part A' are as follows:
| | | |
| --- | --- | --- |
| Sr. | Module Code | Module Name |
| 1 | EM101 | Leadership Management and Human Resources |
| 2 | EM102 | Maritime Economics and Finance |
| 3 | EM103 | Maritime Law |
Details of other parts/ subjects covered can be made available upon request.
In order to ensure that working professionals can attend the Extra Master's Course, the training and Q & A sessions will be held over the weekends. Additionally, queries/ doubts will be addressed by the professional trainers/ experts from the Industry over email any time.
An Internal assessment will be held upon the conclusion of each Module. Passed/ cleared 'Parts' will remain valid for a lifetime.
All course material, references, classroom and training videos shall be made available to the registered candidates on http://www.extramasters.com ; using a unique login ID. (No hard copies shall be provided).
Examinations shall be conducted by 'The Directorate General of Shipping'. The duration of each Part (including examinations) will be around four months. As per D.G.Shipping guidelines, currently, only the candidates holding Indian Certificate of Competency are eligible for this Course. To read the DGS circular on this course, you may click the below link-https://www.dgshipping.gov.in/writereaddata/ShippingNotices/201901181148428947601NT_Cir_No1of2019.pdf
Course fees:
INR 25,000 plus taxes (INR 29,500) for each Part for CMMI Members.
INR 30,000 plus taxes (INR 35,400) for each Part for Non- Members.
Bookings can be done through our website www.cmmi.co.in. Alternately, please click this link for registrations http://cmmi.co.in/pay?cat_id=10 You may get in touch with Master, CMMI (Capt. B. K. Jha) for course/ exam related queries at master@cmmi.co.in. Additionally, you may contact Capt. Sasikumar S. (CEO) ceo@cmmi.co.in (Mobile 98218 39084) or CMMI office at office@cmmi.co.in.