CMMI Election of Wardens for the term 2021-2023
We are pleased to announce that Election of Wardens of the Court for the term 2021-2023, was held in July/ August 2021 as per the pre-announced schedule.
The election process:
Capt. S. Y. Limaye was appointed as the Election Returning Officer on 7th January, 2021
CMMI introduced E-voting this year. The process of E-voting was carried out by "National Securities Depository Limited" (NSDL) a professional body.
Election notice inviting nominations were sent to all members on 30th April, 2021, by Courier & was also circulated by e-mail to all members of CMMI.
47 Nominations were received and the same were finalized on 8th June, 2021.
Members were given the option either to vote electronically (e-voting) or by ballot.
Those who opted for e-voting were registered with NSDL.
Postal Ballot Papers were dispatched to members, who opted for physical ballot voting on 22nd June, 2021. Ballot papers were also sent by courier to those who did not give any specific choice.
Last date for receiving the ballot papers was 5th August, 2021 at 1700 hrs (IST)
E-voting commenced on 21st July 2021 0900 hrs (IST) and completed on 5th August, 2021 at 1700 hrs (IST)
Counting of Postal Ballot / E-voting was completed on 6th August,2021.
Results in a sealed envelope was handed over by Capt. S. Y. Limaye, to Capt. B. K. Jha, Master on 6th August,2021.
Master declared the Election Results to the Wardens during the 229th Court Meeting which was held on on 7th August, 2021.
Election result will also be announced during the upcoming Annual General Meeting of CMMI scheduled on 22nd September, 2021.
First Meeting of the New Court is scheduled on 24th September, 2021. During this meeting, elected Wardens will further elect the new positions of Master. Deputy Master, Secretary General and Treasurer for the 2021-2023 term.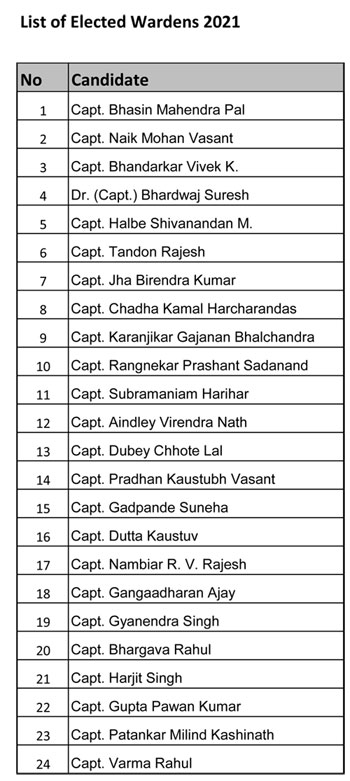 IMPORTANT ELECTION ANNOUNCEMENT
It is noticed that some members standing for upcoming elections are using social media for higher exposure. While there is nothing in CMMI rules against this practice, it is pertinent to point out that it is unprecedented in the history of CMMI. As per CMMI norms, details of candidates are not only displayed on CMMI website but also circulated amongst members. All members are requested to vote with all sincerity to ensure a sterling growth of CMMI. Every member is requested to vote only for those candidates whom they feel worthy. Members can vote for any number of candidates up to a maximum of 24.
Further, it has been brought to our notice that eligibility of some candidates is being questioned on certain social media. We assure members that ALL candidates whose names have been included in the election list are eligible for contesting the elections. Do not be misguided by ill informed sources.
We encourage all members to exercise their right in a fair and responsible manner.
Click here to view DETAILS OF CANDIDATES FOR ELECTION AS WARDEN 2021- 2023